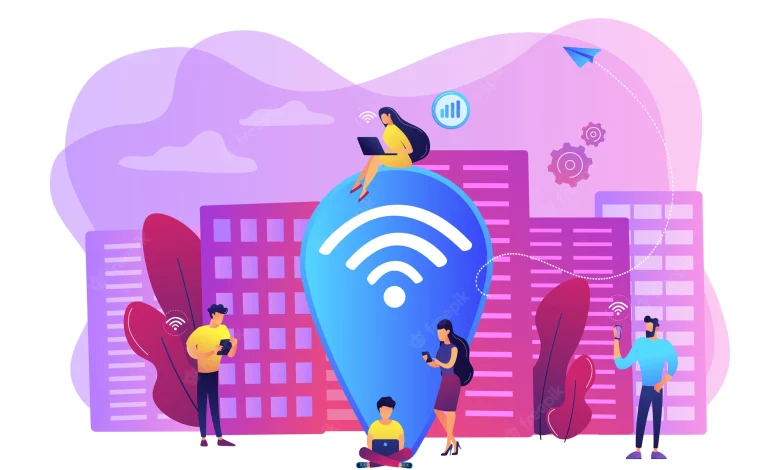 How to Get Free Internet Worldwide in 2023? Imagine this: you're out of town, in a new city, and all you want to do is check your email or post a status update. But you can't—because you're not connected to the internet.
We've all been there, and it's not a fun feeling. Thankfully, there are ways to get free internet access no matter where you are in the world. In this article, we'll show you how to get connected without forking over any cash.
What Are the Different Types of Free Internet?
There are a few ways to get free internet. You can find free Wi-Fi in public places, or you can use your phone as a hotspot.
Public Wi-Fi is just what it sounds like: free internet access in public places, like coffee shops and airports. All you need is a Wi-Fi-enabled device, like a laptop, tablet, or phone. Just look for the network name and password, and you're good to go.
Your phone can also act as a hotspot, which means you can use it to provide internet access for other devices. This is a great option if you're travelling and don't have access to public Wi-Fi. Just make sure you have enough data on your plan to cover the cost of using your phone as a hotspot.
Benefits and Drawbacks of Free Internet
There are obvious benefits to having free internet access everywhere:
You can stay connected with family and friends, even when you're travelling. You can do research for school or work, or find information on the go. You can stay updated on the news, or get a head start on your shopping. In short, free internet access can save you time and money while you're on the go.
Of course, there are also some drawbacks to consider. For starters, free internet isn't always reliable or fast. It also can be difficult to find hotspots in some areas, and you may have to contend with intrusive ads or security risks. But for the most part, these are minor inconveniences compared to the benefits of having costless connectivity wherever you go.
How to Safely Access Free Internet
There are a variety of ways you can access the internet for free, but not all of them are safe. Here are a few tips for staying safe while browsing the web for free:
– Use a VPN: A VPN (a virtual private network) is a great way to access free internet without putting your safety at risk. It creates a secure connection between your device and the internet, making it difficult for hackers or third-party snoopers to track your activities.
– Use an encrypted browser: An encrypted browser is another way to keep your activities private and safe. It encrypts all of your traffic so that no one can see what you're doing online.
– Avoid public Wi-Fi hotspots: Public Wi-Fi hotspots are not very secure, and they're a prime target for hackers. If you're going to use the free internet, it's best to do it at home or in a place where you know the network is safe."
Free Internet on the Go: Mobile Hotspots
You can find free internet on the go with mobile hotspots. These portable devices allow you to connect to a local network, giving you instant access to the web. Most hotspots are compatible with both iOS and Android devices, so all you have to do is find an open Wi-Fi network to connect to.
When it comes to finding a mobile hotspot, there are a few different options. You can look into getting a data plan from your cell phone provider, which will allow you to use your phone as a hotspot. There are also standalone devices like Jetpack or MiFi that offer unlimited data plans for less than $50/month.
Additionally, some mobile providers offer free internet in certain areas—all you have to do is search for "Free Wi-Fi" in your area and see what's available. You can also sign up for Google's Project Fi program or try out other services like Skyroam Solis, which offers subscription plans for wifi access at various places around the world.
Tips for Selecting a Reliable Wi-Fi Connection
So, you made it to your destination and are ready to get connected. Now what? Here are some helpful tips to consider when selecting a reliable Wi-Fi connection:
1. Location: Avoid locations with a lot of people present—if too many people are trying to access the same connection, the speed will likely slow down and can affect the quality of the signal. Look for an area that's not heavily populated by people or other devices.
2. Connection Strength: You want to look for a strong signal with good coverage so you don't experience any patchy connections or frequent disconnects. Check your available connections for signal strength before connecting.
3. Security: If a Wi-Fi network isn't secure enough, your data or personal information may be vulnerable to hackers or other malicious third parties, so make sure any network you use requires password authentication or uses some form of encryption for added security.
By following these simple steps and doing your due diligence when selecting a Wi-Fi connection, you can take advantage of free internet access while abroad and make sure your data is safe!
Alternatives to Public Wi-Fi for Staying Connected
So, what are some of the alternatives available to you if you're looking to stay connected? Here are a few of the top options:
– Mobile hotspots and SIM cards: If you purchase a mobile hotspot or SIM card from a local provider, you can stay connected wherever you go. You might have to pay some roaming or data charges, but this is usually cheaper than purchasing a Wi-Fi plan.
– Free VPNs: A virtual private network (VPN) is a great way to browse the web securely and anonymously. Look for free VPNs if you don't want to pay for one.
– Internet cafes/libraries: If all else fails, head to an internet cafe or public library for a free connection. This can be a great way to save money on Internet bills while travelling.
Conclusion
There are many ways to get free internet access no matter where you are in the world. All you need is a laptop, smartphone, or tablet and the determination to find a way to connect.
There are a number of ways to get online for free, from using public Wi-Fi networks to signing up for a trial subscription to a VPN service. By using a combination of these methods, you can stay connected to the internet no matter where you are.
Just be sure to take precautions when using public Wi-Fi networks, such as using a VPN service to protect your data and using a password to protect your account. And be sure to cancel any trials before they expire so you don't end up paying for a service you don't need.
With a little planning, you can stay connected to the internet for free no matter where you are in the world.