Looking for a good alternative antivirus to Kaspersky? Here are some of the top Best Kaspersky Antivirus Alternatives to Use in 2023. Security nowadays matters a lot be it offline or online. There are many antiviruses out there but not all of them can offer you the desired protection.
Most good antivirus software is paid and will only offer you a couple of days to try for free. That said, it is still better to have even a free antivirus installed on your computer for safety purposes. And here, we will be recommending some good alternative antiviruses to use if you love Kaspersky.
Why You Should Choose an Alternative to Kaspersky Software
As government warnings against Kaspersky software mount following the Russian offensive in Ukraine, interest in alternative cybersecurity solutions is growing. Even though experts have always acknowledged the threat detection capabilities of Kaspersky software – and there is no concrete evidence that the security of the Moscow-based company's products has been compromised – concern is growing about the real Kaspersky security .
Already in 2017, the US Department of Homeland Security banned the use of Kaspersky software by US federal agencies. Most recently, in March 2023, the US Federal Communications Commission (FCC) added the company to its list of companies posing a national security risk.
For its part, the Lithuanian government has banned the use of Kaspersky software on "computers that control critical infrastructure", while the German Federal Office for Information Security (BSI) recently recommended replacing Kaspersky software with another cybersecurity solution. Authorities fear that international sanctions will limit Kaspersky's ability to update its infrastructure and that the Kremlin will be tempted to exploit its network.
Kaspersky has denied the claims, saying they are simply unwarranted speculation with no technical basis. Kaspersky said it was ready to answer any questions, and its products remained available to consumers around the world. As always, we recommend using software from brands you can trust.
Choosing the Best Alternative to Kaspersky antivirus Software
Cybersecurity aims to protect your most sensitive information. So you can't afford to take risks when choosing the most suitable software for your needs. If a company's network were to be compromised, your personal data could be at risk. When looking for the best antivirus software, choose a trustworthy solution recommended by independent experts.
You'll get all of these benefits and more with Avast One, PCMag's 2021 Editors' Choice. Citing its "excellent overall protection," TechRadar says, "Avast One is clearly among the leaders. Not only does it offer many useful protection tools, but these tools are powerful and do exactly what they are supposed to do. »
Best Kaspersky Antivirus Alternatives to Use in 2023
Avast One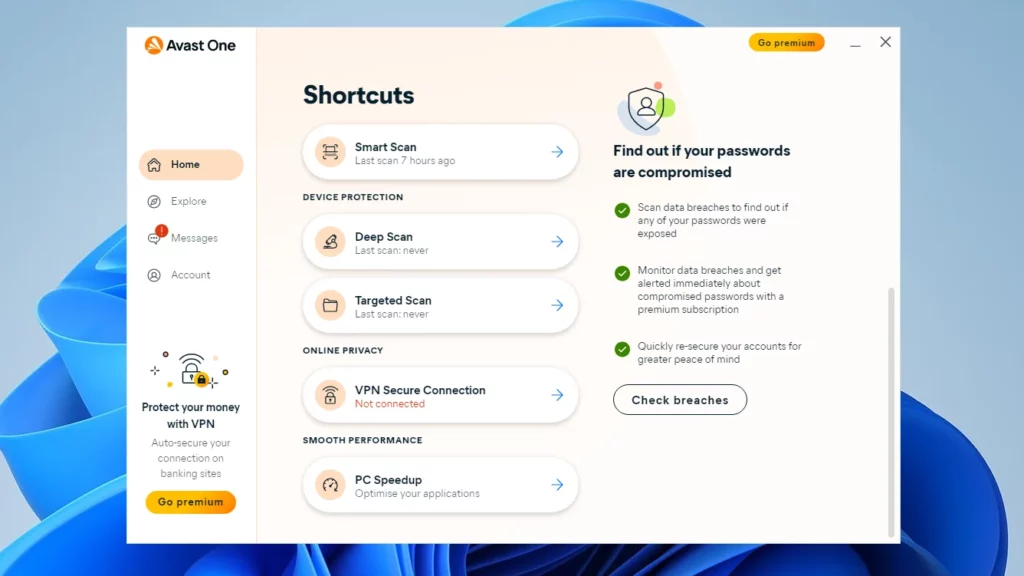 Voted "Editor's Choice" in 2021 by multi-award-winning TechRadar, Avast One combines advanced real-time antivirus detection with a suite of privacy protection and performance optimization features. Always-on, Avast One's threat detection technology identifies and blocks new and emerging threats, and its extensive privacy protection features keep your personal data safe.
Unlike other security software that may be limited to fighting malware, Avast One is more than just basic malware protection. The free version includes a VPN, built-in data and file protection features, tools to clean up your device and optimize its performance, and more. This alternative to Kaspersky is one of the most comprehensive cybersecurity solutions on the market.
Avast – that's us – has been at the forefront of cybersecurity for over 30 years. So you can be sure that we will protect you against the range of today's digital threats.
Key Features: Built on an award-winning antivirus engine, Avast One includes a firewall, phishing protection, and specialized ransomware defences. But its features don't stop there: you get password security tools, protection against scams and malicious emails, enhanced privacy protection components, such as a VPN to secure your web browsing and secure online banking, as well as cleaning utilities for your device.
What the experts say: In AV-Comparatives' malware protection test in September 2021, Avast scored three stars – Kaspersky's two. PCMag voted Avast One "2021 Editor's Choice", calling our antivirus " outstanding " and "featured-rich "while praising its "impressive free protection". Avast One was also voted "Editor's Choice" by TechRadar, which noted its "excellent all-round protection delivered by an array of powerful tools".
If you want maximum online security, Avast One offers Premium subscriptions with more extensive protection features. In addition to Avast One's suite of essential features, the Premium subscription includes network scanning functionality, anti-tracking technology and advanced password securing tools for security and privacy protection. unparalleled confidentiality. Secure up to 6 accounts and 30 devices.
Microsoft Defender
Previously known as "Windows Defender", Microsoft Defender is Microsoft's pre-installed antivirus tool that provides a solid layer of protection against malware . The underlying detection engine of Windows Security, Microsoft's larger suite of security tools, Defender blocks known viruses and helps prevent tracking.
But while it's a good first line of defense, Microsoft Defender might not be enough – according to PCMag , "its top competitors, including freeware, are even better at it." In a March 2021 test by AV-Comparatives , Defender detected only half (approximately) of the malware samples, compared to 93.4% on the Avast side. In comparison, Avast detected over 93% of offline samples. And if you're hoping to secure your Mac , you'll have to look elsewhere.According to TechRadar, Microsoft Defender lacks features and fails to compete with market leaders in terms of protection.
Key Features: Built into Windows, Microsoft Defender provides powerful protection against malware. If you haven't installed any other antivirus, Defender is enabled by default. It also offers basic ransomware and phishing/phishing protection, and with the Windows Security suite, you get a firewall, parental controls, and other useful features.
What the experts say: "According to TechRadar , Microsoft Defender lacks features and fails to compete with market leaders in terms of protection. But it's simple to use and provides pretty decent mid-range protection. »
Bitdefender Antivirus Free one of the Best Kaspersky Antivirus Alternatives to Use in 2023
If you are looking to replace Kaspersky, Bitdefender Antivirus Free is a good alternative. Awarded "Outstanding Product" of 2021 by AV-Comparatives, Bitdefender has consistently performed well in independent antivirus tests.
While Bitdefender offers solid malware protection and an intuitive user interface, it includes a few additional features. If you're looking for a file shredder, VPN, or anti-tracking technology, you'll need to upgrade to Bitdefender Antivirus Plus.
Key Features: In addition to real-time and manual malware scanning options, Bitdefender also monitors suspicious applications, detects exploits and warns you when you are about to visit a dangerous website.
What the Experts Say: While conceding that some features will seem "too basic to some users," Safety Detectives acknowledges that Bitdefender "offers all the cybersecurity protections that the majority of users need."
AVG Free Antivirus
Built on a powerful antivirus scanning tool, AVG AntiVirus FREE detects and eliminates the most stealthy forms of malware, including spyware/spyware and ransomware. If you want to replace Kaspersky's antivirus, consider this powerful application from one of the most trusted brands in the cybersecurity industry.
According to AV-Comparatives' 2021 Summary Report, AVG AntiVirus Free's anti-malware protection outperforms Kaspersky Internet Security. Simple to use, AVG's interface provides excellent security against phishing/phishing attacks, malicious URLs and many other online threats.
Key Features: As well as offering some of the best virus protection in the world, AVG's Threat Detection includes a File Scanner to identify harmful files and attachments, Web Shield to block network connections and insecure data transfers, plus anti-phishing and anti-ransomware features that alert you to security breaches. All in light and user-friendly application.
What the Experts Say: With TechNadu hailing "its ability to counter 100% of threats", including "the latest malware", it's easy to see why AVG was awarded an "Outstanding Product" of 2021 by AV-Comparatives while earning the highest score in the Advanced Threat Protection Test.