As a student, you may have come across secured PDF files. Or if you haven't yet, note that Some Documents(PDF) containing sensitive information are usually protected with password encryption. When you download such PDF files, it will be hard to copy contents from it or print it. But those that mean you cannot print such a Document? Well, that is what today's post is all about. We are going to walk you through the steps on how to print a protected PDF File. There exist many different ways to do this and we will be explaining three easy methods.
PDF files can be protected in such a way that you can't access the contents without entering the encryption password. On the other hand, it can be protected for against printing only. We will be discussing here the case where the PDF file is protected against printing.
Print PDF file protected against printing
If your PDF file opens well but you can't print it, it is pretty easy. There are 2 easy methods you can use to print such a PDF document without knowing the encryption password:
Method 1: Print a PDF secured against printing using Google Docs
You can easily print a protected PDF file without knowing the permission password by making use of Google Docs. Here are the steps to follow;
Step 1: Upload to Goole Doc
When you come across such a PDF file, if you have access to the internet, then you can easily print the file without knowing the permission password. First, upload the file to google drive. Open Google Docs and then click on the "Folder icon" then on the pop-up screen, click on upload and upload the protected PDF.
Step 2: Download printable version of your PDF file
After uploading the print protected PDF file to Google Docs, it will open the document. Click on the "Printer Icon" at the top and the document will open in a new tab of your web browser.
Now, click on the download button to download a printable version of the document.
After you've downloaded the new PDF File(printable) you can now open with any PDF reader and print it right away. Also, you could instead decide to click on the printer icon above to print the document directly.
Wondershare PDF Password Remover can come in handy when you have a document that's restricted so that you can't copy, print or even edit the text. However, it lets you edit, copy and print any PDF for free since it can unlock PDF for printing in the case that you've forgotten the password. This tool is easy to use for beginners due to its straightforward and intuitive interface. You won't require a ton of knowledge about PDF protection.
Step 1: Import a Protected PDF
Download and launch Wondershare PDF Password Remover and click on the "Add Files" button in the top left-hand corner. After clicking the "Add files" button, navigate to the location of the Protected PDF file and select it.
Step 2: Unlock PDF for Printing
After you've loaded the PDF file you wish to remove print protection, select the preferred location to save the modified file(printable version) and click the "Start" button. It should be noted that, if you are using the free version of Wondershare PDF Password Remover, you can only make the first five pages printable. You will need the full version to unlock longer documents.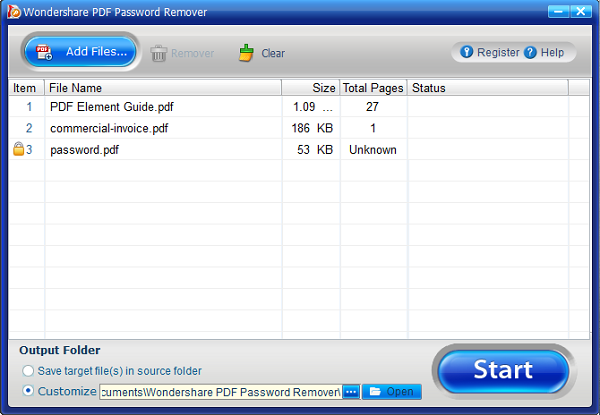 Step 3: Print Protected PDF
After removing the printing restriction from the PDF, you can now open the PDF with and PDF reader to print it.
Method 3: Using your web browser
This is one of the easiest methods and requires no extra connection. No tools to download. You can use web browsers like Firefox, Google Chrome, etc for this.
To remove print protection from a PDF file and print it using the Firefox web browser, proceed as follows;
Remove print protection from PDF file using Firefox
Step 1: Open file using Firefox

Once you've confirmed your PDF file is protected against printing, right-click on it and choose the option to open it with Firefox.

Step 2: Print the Document

After opening the document with Firefox, simply click the printer icon and the option to print will display. It will select the default PDF reader installed on your computer.

Alternatively, you can decide to hit the download button from the Firefox web browser to download a printable version of the secured PDF file. After this, you will simply need to open it with any PDF reader and print it.