ChatGPT is undoubtedly a powerful tool and its use case keeps skyrocketing every second. People can use it not just to get answers to simple questions or but even to generate codes, YouTube video scripts, write e-Books, etc. That said, the availabilty of this tool is restricted in some regions. If you are in such a region where ChatGPT isn't accessible, fear not for we've got you cover.
There are many other ways to use use ChatGPT Without an OpenAI Account and we will be telling you here. Continue reading the subsequent sections of this article to find out.
What is ChatGPT?
ChatGPT is a powerful language model developed by OpenAI that uses artificial intelligence to generate human-like responses to text-based prompts. It is capable of performing a wide range of natural language processing tasks, such as answering questions, generating text, and even carrying out simple conversations. ChatGPT has been trained on a massive amount of data and has shown impressive capabilities in various applications, including language translation, content generation, and customer service.
Why Use ChatGPT?
ChatGPT offers the ability to automate repetitive tasks and enhance customer engagement through AI-powered text-based communication. By utilizing natural language processing algorithms, ChatGPT can accurately recognize and respond to basic inquiries. This makes it a valuable tool for business owners looking to improve customer satisfaction, boost search engine rankings, and create compelling content.
In addition, this chatbot technology enables users to ask follow-up questions and respond to complex search queries. It is equally effective and efficient for both small and large-scale applications. By leveraging ChatGPT, businesses can save time, money, and resources while still providing high-quality customer service.
The Advantages of ChatGPT
Here are some advantages of using ChatGPT;
Conversations that mimic human interaction
Modeled after the advanced GPT, including GPT-4
Versatile – can be used for content creation, text summarization, and programming
Automates repetitive tasks, improving customer satisfaction and engagement
Optimizes websites for search engines (SEO)
Improves user experience, including customer service and search queries
Improves time management by scheduling appointments and tracking deadlines
Extensions and plugins are available for added functionality
Continually improving through active training and user feedback.
OpenAI Account and ChatGPT
ChatGPT is a service from OpenAI. To access ChatGPT, you can easily create an OpenAI account by visiting chat.openai.com. Alternatively, you can still use the old URL, chat.openai.com/chat, which has been simplified for user convenience. Once you sign in, you can immediately start chatting with ChatGPT by asking a question.
How to use ChatGPT Without an OpenAI Account!
As we said earlier, it is possible to access the features of ChatGPT even without an OpenAI account. Some of the ways include;
1. Using Bing Chat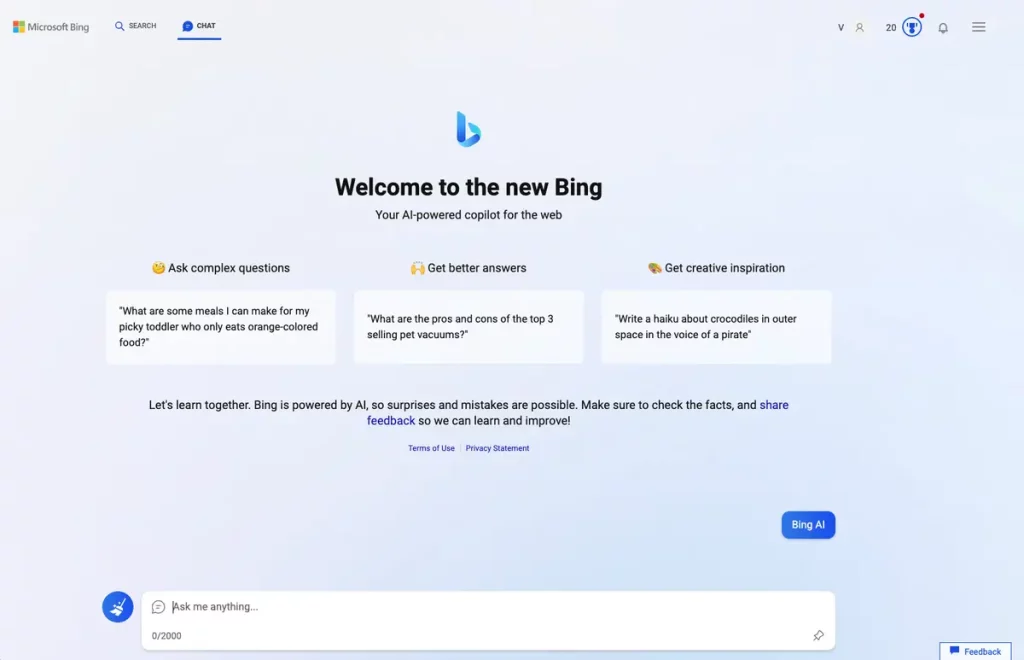 Bing Chat is likely the easiest way for most people to use ChatGPT without an OpenAI account. The Microsoft chatbot is based on the GPT-4 version of the platform. Additionally, it can also incorporate "live results" from current data sources into its responses.
To use Bing Chat, all you need is a Microsoft account and access to Microsoft Edge. If you're already a Windows user, you may already have a Microsoft account. The exception is if it's a local account, which differs significantly from a Microsoft account.
Once you have your account details, accessing the chatbot is straightforward: simply use Microsoft Edge to access the new Bing, and the magic of ChatGPT will be at your fingertips.
2. Using the Bing Mobile App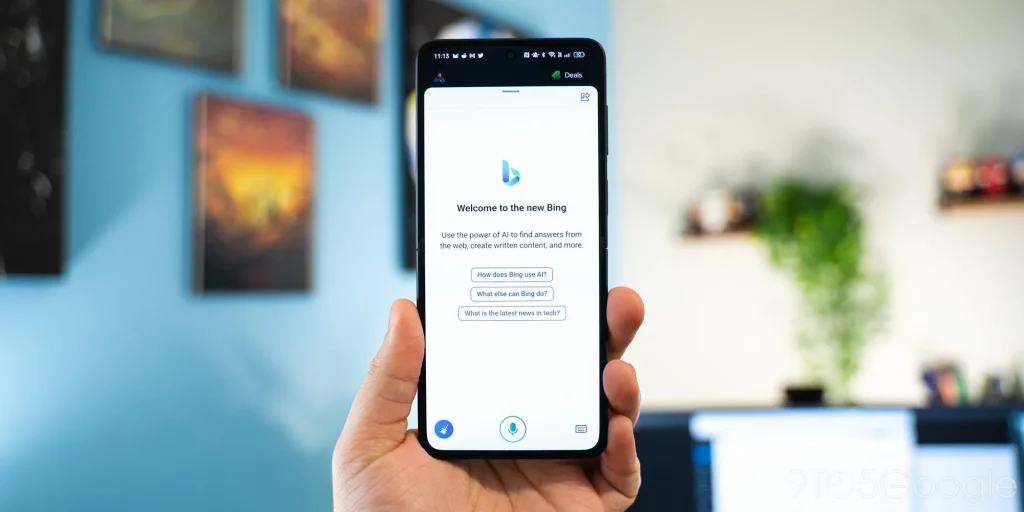 Microsoft has mobile users covered with its AI Copilot app. This is a free download for both Android and iOS, and once again, GPT-4 is at the heart of the app.
The app has most of the features of the browser version and also brings a new dimension to search capabilities for mobile users. If you're looking for mobile access without an OpenAI account, this is an excellent way to circumvent the privacy issues surrounding ChatGPT.
Via the Merlin Chrome externsion
Merlin is a browser extension available for Google Chrome and Microsoft Edge. Once installed, it integrates into the browser and acts as a virtual assistant. Some of the functions it can perform include:
Help with emails: Merlin can assist you in responding to your emails or drafting promotional emails.
Adding AI-generated responses to Google searches: Merlin appears as an "alternate" response to Google queries.
Summarizing blog articles or YouTube videos: Merlin can be used to point out blog articles and videos. It can also transcribe entire YouTube videos, although there are already many YouTube extensions that perform transcription and other tasks admirably.
The installation is straightforward, but you will need to create a Merlin account. This is slightly more restrictive than standalone chatbots, but it is a good premise and works well.
ChatGPT Writer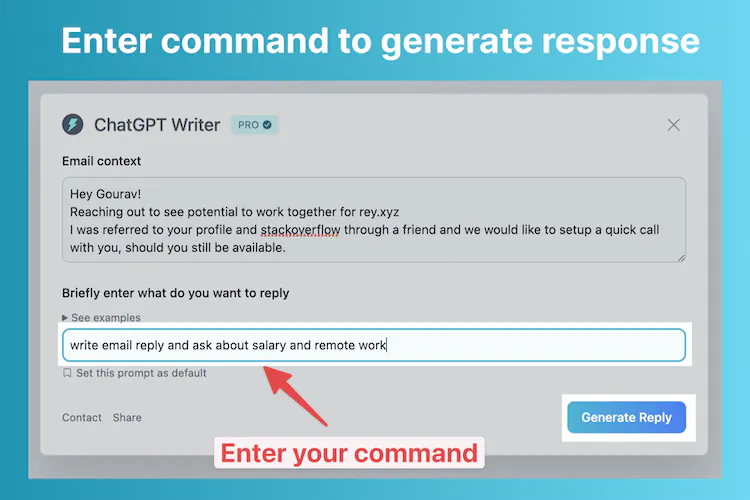 This is very similar to the Merlin Chat extension. It works by integrating into your chosen browser (Chrome or Edge) and from there, it can be called upon to perform a variety of tasks.
Before we could use the extension, it prompted us to visit the OpenAI website for Cloudflare authentication. Once we did that (without creating an account), we were able to use the tool without any issues.
We tested it using Gmail. To do this, we wrote ourselves a fictitious email requesting more details to support a job application and asked ChatGPT Writer to respond. The results were impressive, and the tool was easily accessible from the Gmail reply toolbar.
Conclusion
There aren't many ways to use ChatGPT without an account. However, the four ways listed above should propose one suitable for the most common use cases. While the Bing chatbot was the closest to the "real ChatGPT experience," the browser extensions were also impressive.
The massive rise in popularity of the platform has exposed privacy and security concerns that are justified, at least currently. As technology develops, privacy and security concerns are likely to be tightened to be more in line with legislation and expectations.