Internet
5+ signs that your Facebook account is hacked
The signs that your Facebook account is hacked. Facebook is one of the world's most used social media. Founded in 2004 by Mark Zuckerberg with fellow Harvard College students and roommates Eduardo Saverin, Andrew McCollum, Dustin Moskovitz, and Chris Hughes, its name comes from the face book directories often given to American university students. Membership was initially limited to Harvard students, gradually expanding to other North American universities and, since 2006, anyone over 13 years old. As of 2020, Facebook claimed 2.8 billion monthly active users and ranked fourth in global internet usage. It was the most downloaded mobile app of the 2010s.
Facebook can be accessed from devices with Internet connectivity, such as personal computers, tablets and smartphones. After registering, users can create a profile revealing information about themselves. They can post text, photos and multimedia which are shared with any other users who have agreed to be their "friend" or, with different privacy settings, publicly. Users can also communicate directly with each other with Facebook Messenger, join common-interest groups, and receive notifications on the activities of their Facebook friends and the pages they follow.
Hacking a Facebook account has become commonplace today. Many users of this important social network are regularly victims of it. Discover in this article some warning signs that should challenge you.
There are several signs that someone else besides you is using your Facebook account. Here is a non-exhaustive list. Note that hacking can be extremely discreet, even almost undetectable, especially when it is espionage in particular.
Is Facebook safe?
Overall, Facebook as a website is a safe place. There is built-in security that helps to protect you and your information. One primary level of security that Facebook uses is called SSL (Secure Socket Layer)
But if you're not careful using Facebook, you are looking at the potential for identity theft, or possibly even something like assault, if you share information with a dangerous person you think is actually a "friend."
Facebook is considered a prime target for hackers due to its large number of users, data and connected applications and platforms (e.g. Instagram, WhatsApp). Hackers tend to aim at users rather than the platform itself as they are the weakest link in the chain.
How do I make sure my Facebook is secure?
Secure your Facebook account with a strong password and two-factor authentication. Pick a strong and unique password. Avoid including your name, phone number, email address or common words. Don't reuse your Facebook password on other services online, and never share your password with others.
Here are some signs that your Facebook account is hacked: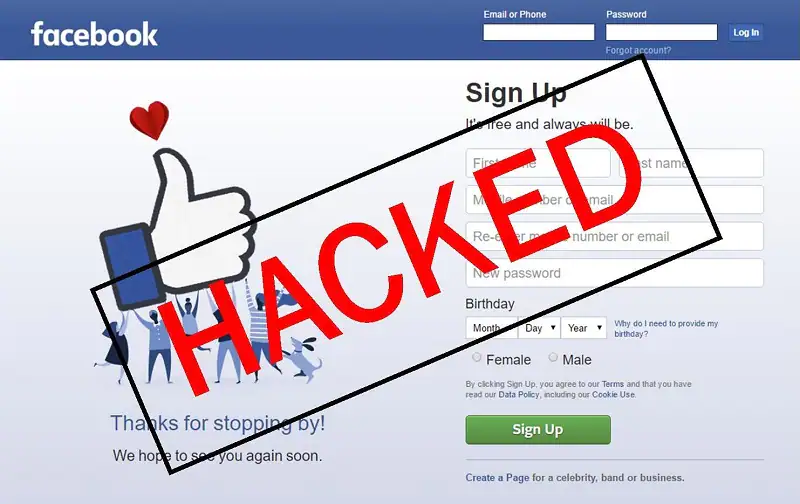 Your profile picture has been changed, but not by you.
Comments and photos that you didn't send are posted on your behalf on your wall or other pages.
Your Facebook friends receive unusual messages from you (to encourage them to go to questionable sites or even to send money, for example), messages that you never sent.
Photos you don't know have been posted on your wall.
A computer, phone, or location that you don't recognize appears in the list of connections to your Facebook account.
You receive emails from Facebook indicating that you have changed your password or changed your email address, without you being the source of the request.
You can no longer log in to your account with your usual password.