Looking for some of the best Best Apps to Remove Unwanted Objects and Watermarks from Videos in 2023? Here came the right place. Here, we have gone through the internet and compiled some very useful apps that are pretty easy to use.
Nowadays, there are many video editing tools out there and people do add custom texts and watermarks to videos they create. Obviously, the most powerful video editing tools are developed for computers but what happens if you only have your Android or iPhone?
All of these apps we have listed below are different and designed for different purposes – some can handle moving objects, while others only deal with watermarks and text.
What does a video editor do?
Video Editors are generally responsible for editing and assembling recorded raw material into a suitable, finished product ready for broadcasting. The material may include camera footage, dialogue, sound effects, graphics and special effects.
Video editing is important because it is the key to blending images and sounds to make us feel emotionally connected and sometimes truly there in the film we're watching. It's a safe assumption to say that video editing is among the most important jobs in the film industry.
Best Apps to Remove Unwanted Objects and Watermarks from Videos in 2023
Now let's take a look at some of the best Apps to Remove Unwanted Objects and Watermarks from Videos in 2023.
Remove Unwanted Object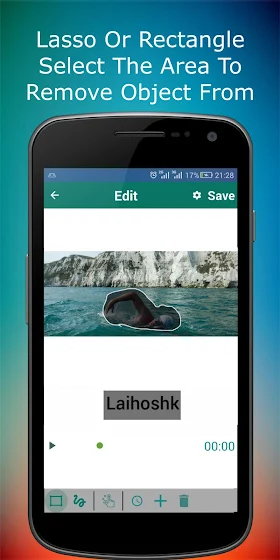 With this application you can remove the unwanted objects of photo & video, you can eraser person, eraser object, eraser sticker or text on your photo. It's all free & with no watermark!
Key features:
– Remove unwanted person
– Erase pimples and skin blemishes
– Delete telephone wires and posts, power lines
– Remove surface breaks and scratches
– Delete human-made objects like stop lights, street signs, trash cans
– Remove unwanted sticker or text
– Remove whatever you feel is spoiling your photos or videos
HOW TO USE IT?
As soon as you start the app it shows you the option to select an image or video
After selection, you are taken to screen with preview and adjustable rectangle/lasso select with actions(specify more than 1 area) to specify the unwanted object you want to remove.
You can also choose the zoom option and pinch with fingers to better select small objects.
You can also define the time interval for which the object removal process should perform in the case of video.
Press the Save button and wait for the process to complete and view or share the results.
All exports are saved in the 'REMOVE UNWANTED OBJECT' folder in sd card
Video eraser – one of the Apps to Remove Unwanted Objects and Watermarks from Videos in 2023 for Android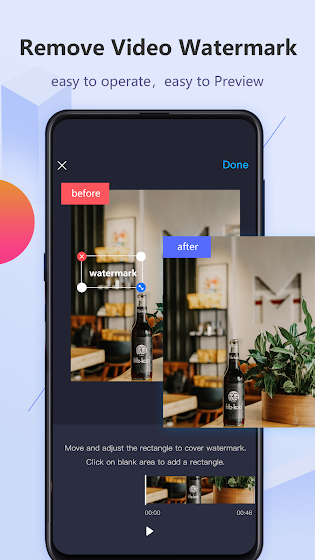 Another very good app to use if you want to Remove Unwanted Objects and Watermarks from Videos in 2023 is the Video eraser application.
Video Eraser is a powerful watermark remover. It helps you remove text/picture logos from your videos, clean the background from images. For video creators, it also enables you to add texts, watermarks, icons, or your drawings to the videos simply. In the new version, you can crop video size, capture video. With one Video Eraser, you can edit your videos or images, add or remove a watermark with simple taps conveniently.
Features:
• Remove watermark from video/image
As an effective watermark cleaner, this Video Eraser app can fulfil your dream of removing watermarks from your videos or images. With the help of advanced image/text recognition technology, it will automatically recognize the logo. So, you can remove it and make the background clear.
• Add watermark to video/image
For video editors or vloggers, it is very easy to add their own logo or icon to the videos or photos. Just select the function "Watermark Video" or "Watermark image". Then you are able to edit the text, import an image, or draw a picture as the logo. And you can freely move or rotate it above the picture.
• Edit videos
In the latest version, this watermark remover app also provides you with practical video editing functions. You can crop the video size for a proper aspect ratio, or record a screen video. Then you can also upload it to your video album for adding a watermark.
Watermark remover, Logo eraser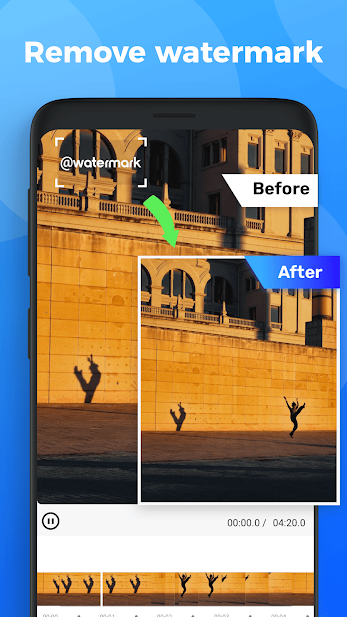 Just as the name of this app suggests, it is used for removing watermarks from videos. The App is only available for Android users.
Remove watermark from video
How to make videos without a watermark? The app is a great no watermark editor. You can select multiple regions to remove the watermark or logo at the same time with a friendly UI Operation, then you can get a new video with no watermark.
Add watermark to video
Customize your personalized logo to protect the brand. Now you can add a logo or put text in the video at the same time, adjusting every watermark showing time independently.
-Add text watermark to video, you can adjust text colour, size, shadow or background.
-Put an image watermark on video, you can select a local image from the album as your watermark or logo, easily adjust its size or position.
-Support gif watermark, add an animated sticker on video as watermark
Video editor
The video watermark remover is also a video editor tool, it supplies many easy-to-use functions to edit videos.
Crop video
Fit your video in any Aspect Ratios, 1:1 for Instagram, 16:9 for YouTube; 9:16 for TikTok
Compress Video
Choose resolution to compress, reduce the video file size and share with your Whatsapp friends easily.
Trim video
Trim and cut video without losing quality.
Video Retouch: Remove Blemish
Video Retouch: Remove Blemish is a free video editing tool for iOS users. If you've ever wanted to remove the boring things from a video then Video Retouch can make objects disappear quickly. Very simple to use. Simply paint the object area you want to be removed, and touch the go button. video and share to your social network now.
Remove Watermark, Easy Retouch – One of the Best Apps to Remove Unwanted Objects and Watermarks from Videos in 2023 for Android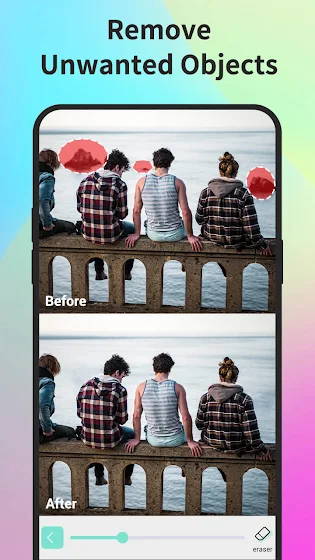 Remove Magician is a simple and practical eraser tool for photos and videos. It helps you remove watermark from your videos, clean text or logo from images, and retouch your photos. You can mark any unwanted content in pictures and videos, then directly remove them with just one touch!
What magic can you do with Remove Magician?
– Quickly remove the watermark, just wipe the watermark you don't want with your finger, and it will disappear instantly. Fast, effective and easy to use.
– With the help of the advanced AI artificial intelligence recognition technology, it will automatically recognize the watermark and erase it cleanly.
– Messy telephone wires and power lines, breakages and scratches on the surface of objects, pimples or skin blemishes on the face, messy trash cans by the roadside, unwanted stickers or text, just mark them to make unwanted objects vanish right before your eyes.
– Free collocation with multiple shapes, brush and lasso. Also comes with a zoom function. Removing the watermark on the complex background can make the photo more delicate and natural.
– Saving time to retouch your image with simple image processing.
– Supports MP4 and most common video formats.
– Adjust the size of the brush and eraser as needed.
– Quality of photo or video without compromise.
– View all generated images and videos in the gallery.
– Quick saving your masterpiece to the album and easy sharing to social media.
How to use it?
1. Select a photo or video from the gallery
2. Choose objects you want to remove which marked in red
3. Press the remove button, easy retouch
4. Save or share with your friends