Here are the free channels to watch all the matches of the Qatar 2022 FIFA World Cup. Not all sports channels can broadcast the FIFA 2022 World cup matches and if you are looking for media rights channels to watch this once-in-a-lifetime event for free, then we've got your back.
The tournament kick-started on the of this month of November and will continue till the 18th of December 2022.
If most of the beautiful posters are broadcast for free on TF1, this is unfortunately not the case for all matches. In this article, we are going to introduce you to 2 free and completely legal channels that will allow you to watch all the matches of the football world cup live in streaming.
FIFA World Cup Qatar 2022 groups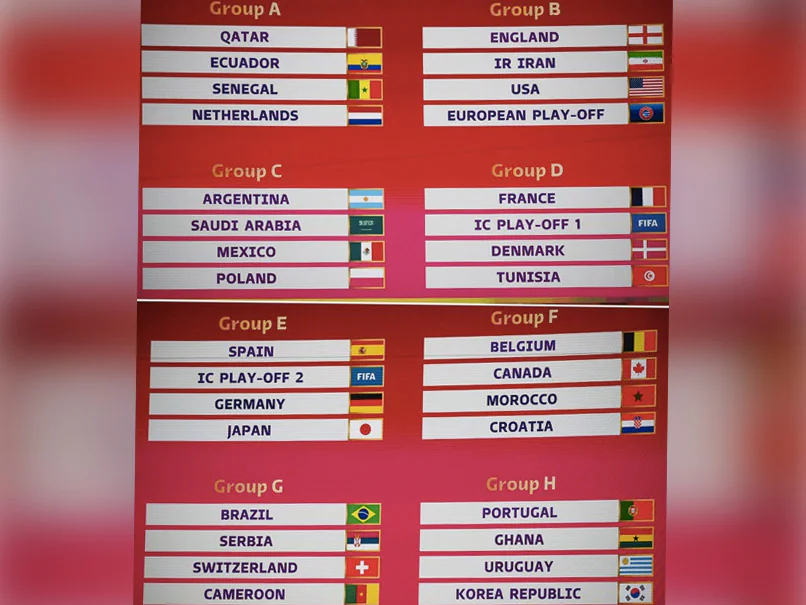 Live match stats and results
All free channels to watch all the matches of the Qatar 2022 FIFA World Cup
All these posters are broadcast free of charge and live on the Swiss channel RTS and the Belgian channel RTBF (auvio)
For those in France
If you are in France, you must have noticed that the 2 channels broadcasting the World Cup live are TF1 and beIN SPORTS. If TF1 obviously broadcasts the matches for free, this is not the case with beIN SPORTS for which you will have to pay a subscription.
When you see the very beautiful posters broadcast on beIN SPORTS, it can quickly be frustrating and lead people to look for alternative solutions in order to watch all the World Cup matches.
No need to turn to illegal streaming. Indeed, there is a very simple solution that will allow you to watch the World Cup live on a free channel.
For those in Belgium
If RTS is not suitable for you to watch the world cup live, you have an alternative. RTBF (https://auvio.rtbf.be/direct) is a free and totally legal Belgian channel which also has broadcasting rights for all matches of the 2022 world cup from November 20 to December 18.
The comments of this channel are also in French which will be perfect for people who are not very comfortable with foreign languages. The video quality on Auvio is excellent and so you can fully enjoy the world cup matches live on this free channel.
Watch online worldwide for free
The first free channel that broadcasts the entire World Cup live online streaming that we want to introduce to you is RTS (https://www.rts.ch/play/tv).
RTS is a totally legal and official Swiss channel that covers the entire competition. If you are located in Switzerland, you can therefore easily enjoy the entire World Cup live. But what you will have to note about this channel is that all the commentaries will be in the French language.
The other channels that broadcast the 2022 World Cup for free
Now that you know two free and legal channels that broadcast the entire World Cup with audio in French, we are going to list you very briefly other channels that also broadcast the entire competition. Note that all these channels are free and obviously legal but do not have French audio.
Among the free channels on which you can watch the World Cup live, we can mention:
BBC iPlayer and ITV in the UK
RAI in Italy
RTVE in Spain
SBS in Australia
TEN in Ireland
ARD and ZDF in Germany
NOS in the Netherlands
RTP au Portugal
Abema TV au Japon
SVT in Sweden
DR in Denmark
For those in Cameroon
Cameroonians who are passionate about the FIFIA World Cup competition can watch their favourite Teams play on CRTV Sports. That said, CRTV Sports will only broadcast live selected matches (especially matches involving African countries).
But all hopes are not lost. Those using traditional cable distribution can watch all the matches on Super Sports International or New World Sport. RTS is also available on cables.
What if you can't stream the world cup matches online owing to geo-restrictions?
Some of the channels we've listed above are available online for those who will like to stream live matches from their workplace or mobile phones. But most of them cannot be accessed from all the regions.
RTS for example is easily accessible by people in Switzerland and if you are unable to access the channel online from your location, then a good VPN will do the trick. You will need to use either a strong paid VPN like ExressVPN or NordVPN and then point your IP to Switzerland.
On the other hand, RTS will require you to switch to a Belgium IP to unblock any geo-restrictions. The same VPNs above will come in handy.
For those who prefer TF1 or beIN SPORTS, they will have to make sure to use any French IP provided by a strong VPN like ExpressVPN. Although one can still use a free VPN, there is no telling if it won't affect streaming speed.