Top Best Procreate Alternatives For Windows 10/11 in 2023. Procreate is undoubtedly one of the best sketch canvases for the artist, but unfortunately, it is only available for iPad, and that is for a one-time fee of $9.99. Well, there are great Procreate alternatives you can try for Windows laptops or tablet PCs. So if you're an artist looking for great drawing software, this is the rabbit hole for you. Let's discover some great Procreate alternatives together!
Procreate is a raster graphics editor app for digital painting developed and published by Savage Interactive for iOS and iPadOS. Designed in response to the artistic possibilities of the iPad, it was launched on the App Store in 2011.
Procreate and iPad goes side by side. Procreate is one of the best drawing software for digital designers and artists. Its seamless integration with a smooth, perfect screen and precise Apple Pencil make sketching a butterfly experience for the artist. However, most artists use Windows tablets and laptops to draw and paint digitally.
Unfortunately, Procreate is not available for Windows, but many other apps work great, and some are even free! So let us see some of the best alternatives for Windows PC.
List of Best Procreate Alternatives for PC Windows 10/11 in 2023
These are some of the best Procreate alternatives that you can use if you are an artist by profession or just looking for great software to make your drawing passively easier. Some of them are free while others are also paid.
Sketchbook is a raster graphics software app intended for expressive drawing and concept sketching and also for making animations. The software was first developed by Alias Systems Corporation as StudioPaint, before being acquired by Autodesk and then being spun out into an independent company, Sketchbook, Inc.
Of course, we had to add Autodesk Sketchbook to the list. It is ultimately the best app for designers, sketchers and artists combined. Autodesk Sketchbook has many advanced features that every artist will fall in love with.
It supports a pen interface, so if you're using Windows tablets, these will work great. Autodesk regularly saves all your work, so you don't have to worry about accidental data loss.
Advantages:
Available on multiple platforms: Windows, Mac, iOS and Android
The full version is completely free!
Workspace and professional tools
The inconveniences:
A bit difficult to learn
Less amount of brushes to choose from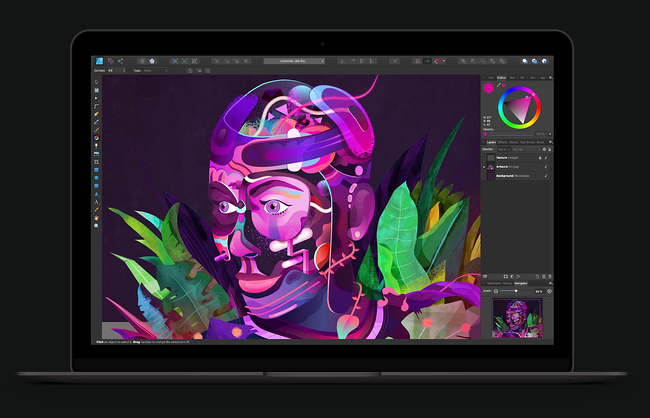 When it comes to graphic design, how can we miss Adobe's feature-rich Illustrator program? It has one of the best user interfaces and contains intuitive controls for touch screen devices. Of course, Adobe Illustrator deals primarily with vector graphics, but you can also play around with rasterization similar to Procreate. You can create everything from web icons and product packaging to book illustrations and billboards.
With Illustrator, you'll get all the tools you need to turn simple shapes and colours into sophisticated logos, icons, and graphics. Since you're working with vector graphics here, your artwork can scale anywhere from a small smartphone to a billboard.
You also have access to great typography and freehand drawing tools. I would say Adobe Illustrator is one of the best Procreate alternatives for Windows 10 and you should definitely check it out.
Advantages
Clean UI
Huge library of assets
Beautiful typography
Create whatever you want
The inconveniences
The major downside of this software is the price (7-day free trial, subscription starts at $239.88/year). It is costly to use compared to other similar software.
3. Krita: Top Best Procreate Alternatives For Windows 10/11 in 2023
Krita is a free and open-source raster graphics editor designed primarily for digital painting and 2D animation developed by Krita Foundation, KDE and is available for Windows, macOS, Linux, Android, and Chrome OS.
It's a great tool for comic and manga creators. That aside, Krita also allows users to customize brushes if needed, which is a great option to embrace your creativity.
Pros:
Tailor-made software for the artist.
Supports Photoshop PSD files
Opensource / Free to use
Cons:
Slow to load
Occasional performance issues
The Concepts software is an advanced version of sketching paper, where natural tools meet vector manipulation so ideas can change and grow as you do. It is free to use but comes with a paid option where you subscribe monthly at $4.99.
Concepts are one of the few Procreate alternatives that offer a similar level of touch controls on an infinite canvas. It is specially optimized for Surface Pen, Surface Pro X and other ARM64-based Windows 10 devices. The best part is that if you have a touchscreen Windows laptop, you can access unique tools like the colour dial. Additionally, Concepts offers near-zero latency, as does Procreate.
You get a huge canvas on which you can create illustrations, sketches, and design plans. In addition to this, Concepts supports tilt and pressure modes which will help you draw intricate details with high precision. And just like other drawing apps, you get many types of pencils, brushes, and pens.
There is also this different type of canvas where you can select the background from various preset textures and papers. If you use an active stylus like Wacom (or another Apple Pencil alternative), you can take advantage of its velocity feature for flexible sketching and drawing. Simply put, if you are looking for the best Procreate alternative for Windows 10, take a look at Concepts.
Pros
Optimized for Surface devices
Soft brushes
Ideal for illustrations and sketches
Single dial
Cons
The experience differs from other Windows laptops
MediBang Paint is an excellent app that enables you to paint while on the go – especially considering that it's free. With over 50 brushes and hundreds of materials, MediBang Paint is an easy and intuitive way to make art. On top of that, it's a powerful free app that isn't dragged down by ads.
It is yet another great alternative to Procreate for Windows 10 is MediBang Paint, especially if you're a manga or comic book creator. The app offers various tools including 800+ tonnes/backgrounds, brushes, 50+ brushes and 20 font styles. It's a simple and powerful tool for people who are just starting their journey as comic or manga creators and want a tool that can help them learn and improve.
The app also offers cloud synchronization between platforms. To sum up, for budding and professional comic book creators, MediBang Paint can be a great tool, even more so when it's completely free.
Advantages
Ideal for manga and comic creators
Over 50 brushes
Over 800 backgrounds
Suitable for beginners
6. Affinity Designer – One of the Best Procreate Alternatives For Windows 10/11 in 2023
Affinity Designer is a vector graphics editor developed by Serif for macOS, iPadOS, and Microsoft Windows. It is part of the "Affinity trinity" alongside Affinity Photo and Affinity Publisher. The software offers you a 30-days free trial. There is also a one-time fee of $49.99 to get access to the full features of the software.
It is generally not recommended for drawing and sketching, but you can get the most out of it if you know how to use it. Using its vector illustrator, you can create some of the best graphic designs.
The application brings a complete graphic design solution for all your needs, whether you are a beginner or a professional. My favourite thing about Affinity Designer is that all of its tools and features are designed with end-users in mind. This means that they are easy to access and easy to learn and use.
Apart from illustrations, you can create icons, branding materials, print projects, mockups, and more. Considering all the points, I would say that Affinity Designer definitely ranks among the best Procreate alternatives and is good for vector and raster graphics design.
Advantages
Great for vector illustration
All-in-one graphics editing program
Create all kinds of graphics
Simple user interface
The inconveniences
7. Corel Painter
Corel Painter is a good alternative for Procreate in Windows and is suitable for both beginners and advanced users. This software brings a plethora of graphics tools to help you get the job done. Corel Painter bills itself as a tool for the pros, created by the pros. Fortunately, this description is not far from the truth. You get a huge selection of brushes (over 900), exclusive particles, pattern pens, chunky brushes, and more.
Corel Painter is supported by its huge library of video tutorials, ideal for beginners. All in all, if you are looking for the best Procreate alternative on Windows 10, I suggest you try Corel Painter. After downloading, you get the option to try it free for 15 days. Full access to the software is priced at $199 per year.
Pros
Over 900 brushes
Feature-rich
Tutorials for beginners
Extension support
Cons
Inkscape is our last app on this list and we've included it primarily because it's completely free and open-source. You can use Inkscape for vector drawing on your Windows 10 laptop. Not to mention, just like Procreate, you get pro tools like flyout, anchor, and smart navigation.
The program is quite advanced and includes all the commands you need to create complex paintings, arts, logos, etc. Plus, you get access to tools like Bézier and Spiro curves, layers, colour profiles, and a powerful text tool. To conclude, Inkscape may not be the best when it comes to editing raster graphics, but it is a solid program for vector design.
Advantages
Free and open-source
Advanced colour profiles and layers
Powerful text tool
The inconveniences
Not the best for editing raster graphics
Conclusion
Now that you know of some of the best Procreate Alternatives For Windows 10/11, we believe you should be able to make a choice from the list. Depending on whether you are a beginner or an advanced user, you can decide to go for a free Procreate alternative or a paid software.