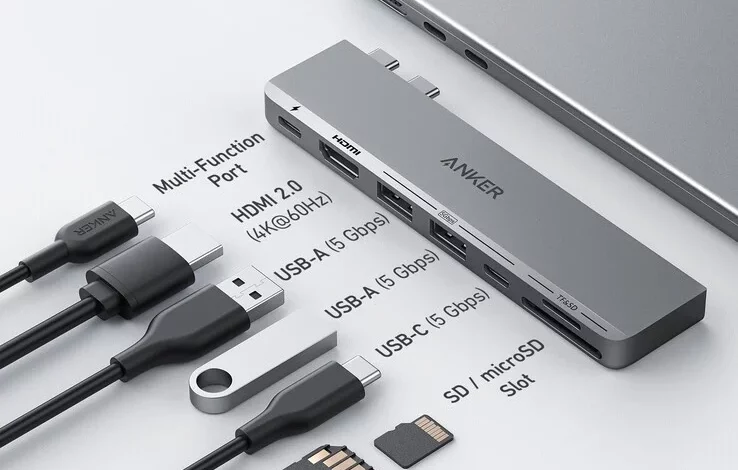 Technology enthusiasts and MacBook users have something to rejoice about as Anker, a renowned tech company, introduces its latest innovation—the Anker 547 USB-C Hub (7-in-2). This cutting-edge hub is specially designed to cater to the needs of MacBook users, ensuring seamless connectivity and enhanced functionality.
One notable feature of the Anker 547 USB-C Hub is its strategically positioned HDMI port, which has been ingeniously shifted to avoid obstructing the MagSafe port. This clever design adjustment allows users to enjoy the benefits of MagSafe charging without any hindrances.
In addition to this, the hub provides a powerful 40Gbps USB-C port capable of delivering 100W charging, as well as multiple USB ports (5Gbps) for effortless connection of peripherals. With the multifunctional USB-C and HDMI ports, the Anker 547 enables users to effortlessly connect to dual displays, expanding their visual experience and productivity.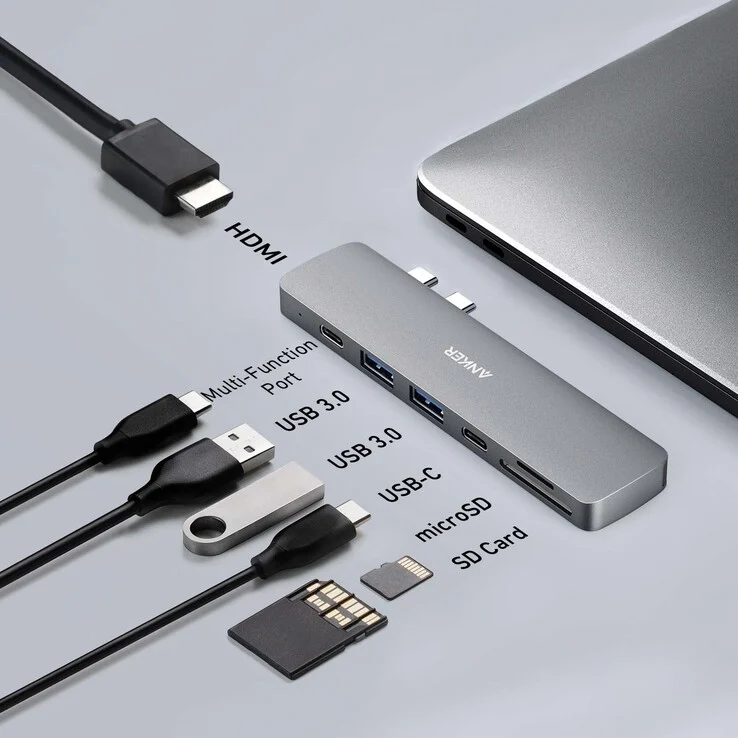 The refreshed Anker 547 USB-C Hub (7-in-2, for MacBook, Gray) is now available in Europe, offering seamless compatibility with MacBooks via USB ports. While retaining the familiar connectivity options of its predecessor, this updated model incorporates the necessary adjustments to accommodate MagSafe charging. Boasting an impressive array of seven ports, the Anker 547 can effortlessly connect to a 5K 60Hz display and a 4K 30Hz monitor, providing users with unparalleled visual clarity. Furthermore, the hub also includes convenient SD and microSD card slots, ensuring easy access to data transfer and storage capabilities.
In terms of design, Anker has taken inspiration from the sleek aesthetics of the MacBook itself. The Anker 547 USB-C Hub features a design language reminiscent of the MacBook, complemented by a stylish metallic finish. This harmonious combination ensures that the hub seamlessly integrates with the MacBook, both in terms of functionality and aesthetics.
The Anker 547 USB-C Hub (7-in-2, for MacBook, Gray) is competitively priced at €59.99 ($49) in the United Kingdom. To make this remarkable innovation even more accessible, Anker is currently offering up to a 20% discount on the new USB-C hub through Amazon. While the availability of the Anker 547 USB-C Hub in other markets is yet to be confirmed, users worldwide eagerly anticipate its arrival.
With the introduction of the Anker 547 USB-C Hub (7-in-2), Anker continues to solidify its reputation as a leading provider of innovative and reliable tech solutions. This new hub serves as a testament to Anker's commitment to meeting the ever-evolving needs of MacBook users, offering enhanced connectivity, effortless functionality, and a design that seamlessly integrates with the MacBook ecosystem.