Today, we are sharing with you a guide on how to configure Orange free internet with Sshtunnel PH. This VPN is pretty much like Anonytun.
Free internet with Orange Cameroon has been around for a while now and we have different VPNs working with it. Although we are using the term "free internet here", this internet cheat isn't completely free but it will enable you to browse the internet at a very cheaper rate. We recently shared a tutorial on how to configure Anonytun and TSL Tunnel for this Orange free.
Requirements for the Orange free internet with Sshtunnel PH
Those who have been using the Orange free internet cheat already know what to do. But if you are still getting informed about this Orange free internet cheat, then here is all you need to get started;
You must have an Orange Cameroon SIM card
Your Orange SIM card should have Orange Money active
You need at least 200CFA Orange Money balance. Note that this may vary with SIM. And to add to this, recently, Orange has increased the tariff for some users(at least 3000CFA, making it impossible for them to enjoy this free)
Subscribe to OM Internet deals by dialling #150*232#. You can choose the 3 days internet bundle, or 10 days or even the 30 days option.
An Android device is required(not supported on iOS)
A Modem for sharing the connection to your Phone if you are using a device which doesn't support SIMs
How the Orange free internet with Sshtunnel PH works
Subscribing to the OM Internet deals gives you a limited amount of data connection valid for the selected time period(3,10 or 30 days). For example, if you choose for 200CFA which valid for 3 days, you get 330MB to use + Unlimited access to WhatsApp.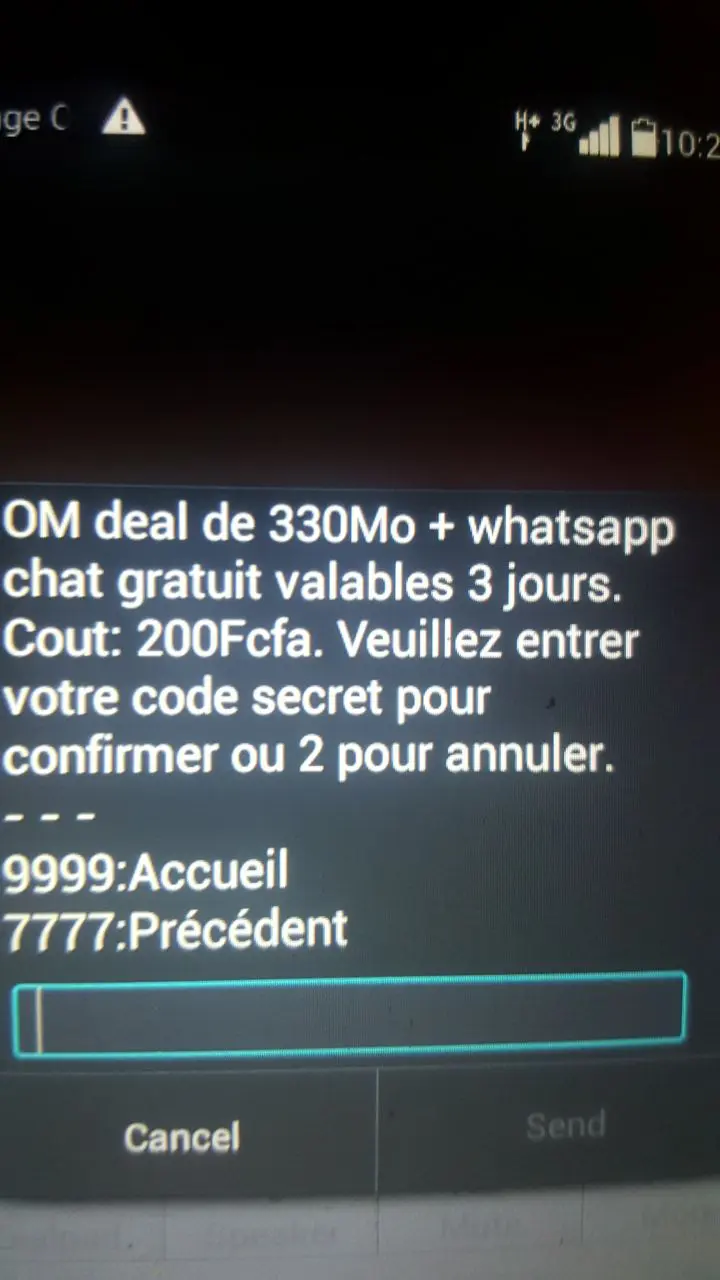 After a successful subscription, if your 330MB gets finished and your bundle is still valid, then you will have access only to WhatsApp. But, this is where the trick to the free internet lies! We then configure a VPN to exploit the WhatsApp data and allow us to use it overall apps on our device.
How to configure Sshtunnel PH Free for Orange free internet in 2020
To configure your Android for the Orange free internet with Sshtunnel PH VPN, follow the instructions below;
Start by making sure you have subscribed to the OM deals internet bundle.
Next, download and install Sshtunnel PH Free on your device.
Once you have this VPN installed, consume all the data bundle you got after subscribing to the OM deals.
Now, you should have access only to WhatsApp.
Next, under "select network" option, choose "WhatsApp" from the dropdown menu.
Now, click on "Custom SNI/HTTP".
When you click on the "Custom SNI/HTTP" option and toggle it on, a popup screen will then open.
Save the settings.
Back on the main screen of the VPN, click connect and wait. It will connect in just a couple of seconds. Enjoy fast free unlimited internet.
Orange free internet with Sshtunel PH FAQ
Is this Orange free internet cheat valid for everyone?
At first, every one could use this free cheat provided they have an Orange moeny account. But of late, Orange has increased the tarriff of some users making it pretty expensive.
Can this Orange free internet cheat work on 2G devices?
2G connection is pretty slow. So, we recommend using a 3G/4G device.
How much does it cost to use this Orange free internet cheat?
As we explained above, the price varies with SIMs. But the least amount required is 200CFA for 3 days unlimited access to the internet.