Guides
How to create a WhatsApp Status that can last for 2 Weeks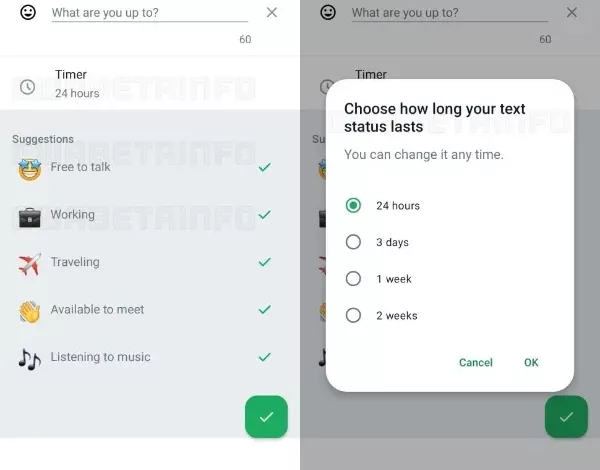 In the ever-evolving landscape of instant messaging, WhatsApp continues to push boundaries and enhance the user experience. The latest buzz in the tech world suggests that it is possible to create a WhatsApp Status that can last for 2 Weeks! How is this possible? Continue reading to find out more.
WhatsApp Status: A Brief Overview
Before we tell you how to create WhatsApp Status that can last for more than 24 hours before expiring, let's take a moment to understand what WhatsApp Status is all about. As most WhatsApp users know, Status is a feature that allows you to share photos, videos, and text updates with your contacts. These updates have traditionally had a lifespan of just 24 hours, adding an element of ephemeral charm to the platform.
However, the tech wizards behind WhatsApp are cooking up something special. They are planning to introduce a new functionality that will enable users to upload Status updates with extended durations—24 hours, 3 days, 1 week, and even 2 weeks! In this article, we will delve into the details of this upcoming feature and what it means for WhatsApp enthusiasts.
create a WhatsApp Status that can last for 2 Weeks – Unlocking Extended Status Durations
What's Changing?
So, what exactly is changing with WhatsApp Status? According to the reliable sources at WABetaInfo, the information texts previously found under the headings "Info" or "About" will be transformed into 'Status.' When you decide to create a Status update, you will now have the power to choose how long it stays visible—whether it's for a full day or up to a maximum of two weeks. This shift in functionality could redefine the way users interact with WhatsApp and its Status feature.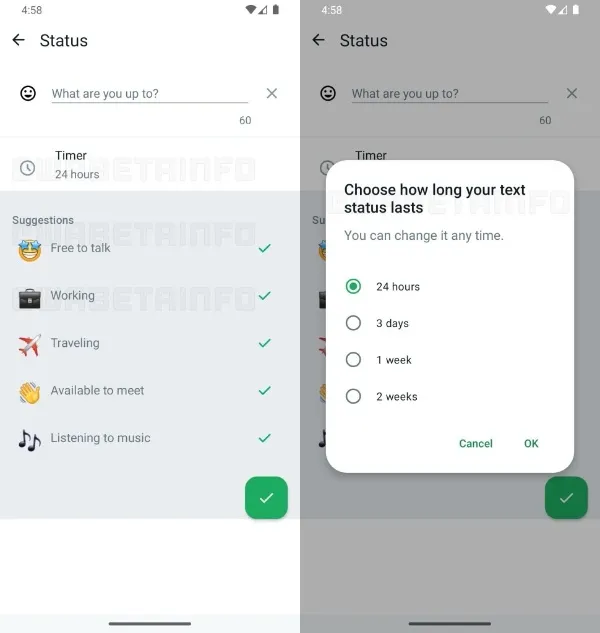 The Development Stage
It's important to note that this feature is still in development, and it may not be available for immediate use. However, once it's rolled out, it's expected to be a seamless process. Users will likely be able to access this feature by navigating to their app settings, then their profile, where they will find the section dedicated to their 'Status.' From there, they can customize the duration of their updates.
WhatsApp: More Than Just a Messenger
WhatsApp as a Social Network?
While WhatsApp is primarily known as a messaging app, some have begun to consider it as a social network in its own right. But what sets WhatsApp apart from traditional social media platforms?
In essence, WhatsApp is a service that allows people to communicate with those who may be miles away, simply by knowing their phone number. Unlike the open, public nature of many social networks, WhatsApp is designed for more personal, one-on-one interactions or small group chats. It focuses on maintaining the privacy and intimacy of conversations.
Conclusion
WhatsApp's upcoming feature of extended Status durations is poised to change the way we share updates and engage with our contacts. The ability to keep a Status update live for up to two weeks adds a new dimension of flexibility to the platform, making it even more versatile for users. While this feature is still in development, it's something to look forward to for all WhatsApp enthusiasts.
In the dynamic world of instant messaging, WhatsApp continues to innovate and adapt to the changing needs of its users. The future of WhatsApp promises exciting possibilities, and this extended Status feature is just one of the many improvements we can expect.
If you're eager to explore this feature when it becomes available, stay tuned for updates from WhatsApp and don't forget to customize your Status settings to make the most of this new functionality.