The now-popular ChatGPT can be integrated with many apps and many developers are even going further to add extra features to make their AI Chat bot more robust. Now, can one use ChatGPT on WhatsApp? If yes, how do you integrate chatGPT with your WhatsApp?
ChatGPT has quickly captured the attention of internet users. While some utilize it for entertainment or experimentation, others have already incorporated it as a tool for work. However, a current limitation is that OpenAI does not yet provide a mobile application for the chatbot. Fortunately, there is a solution for those seeking a native mobile app experience: ChatGPT can be accessed directly on WhatsApp.
Shmooz.ai is among the developers who utilize ChatGPT's OpenAI API to provide access to the chatbot on WhatsApp, as OpenAI does not offer this service directly.
And if you want to start having ChatGPT on your WhatsApp inbox through Shmooz.ai, it's very simple.
How to have ChatGPT on WhatsApp?
To begin, access the Shmooz.ai website on your smartphone where WhatsApp is already installed. Once there, simply click the "Start Shmoozing" button to proceed.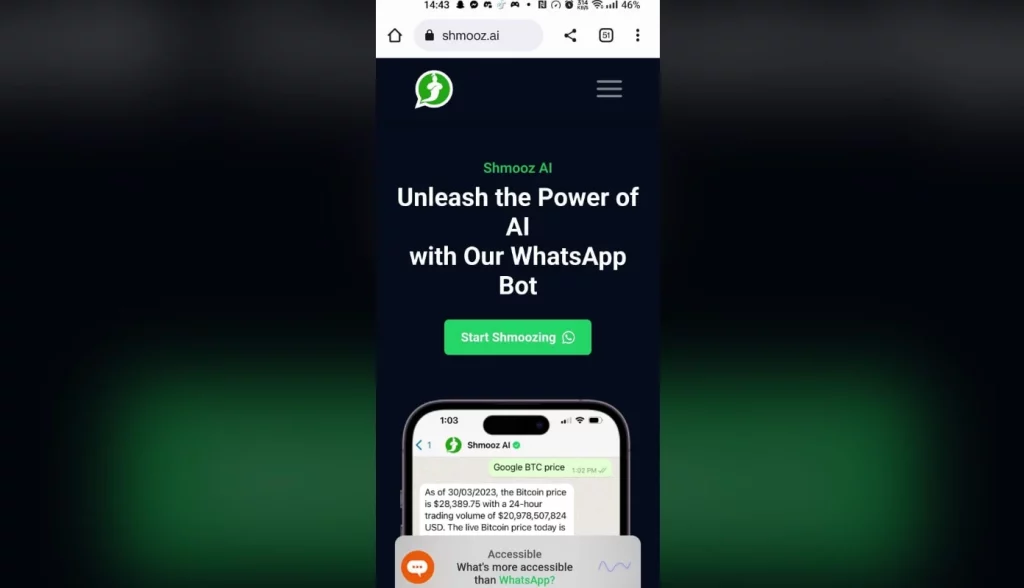 On Android, a notification pops up indicating that the WhatsApp account has been located. You should tap on "Continue to conversation" on the notification to proceed.
Having ChatGPT integrated with WhatsApp can be extremely useful if you use the app frequently. However, this service is not free, as it relies on the paid Open AI API.
Once you have exhausted your first 20 requests, the chatbot will prompt you to subscribe for $9.99, which provides unlimited messaging and access to advanced AI features.
It is worth noting that other developers offer similar services for WhatsApp, such as WizAI, BuddyGPT, Mobile GPT, and WhatGPT. With the absence of an official ChatGPT mobile app, there is high demand for this type of service.
WizAI, for instance, boasts over 53,000 users and has sent more than 830,000 messages via its WhatsApp robot, with a subscription fee of only $2.
Shmooz key features
Experience the future of communication with our cutting-edge AI features with this advanced AI chatbot for WhatsApp;
Personal AI Experience: The AI assistant is designed to learn and adapt to the user's preferences, providing a personalized experience.
Easy Communication: Integrates with WhatsApp, making it easy for users to communicate and receive assistance
Availability: The AI assistant is always available to answer questions and provide assistance, 24 hours a day, 7 days a week.
Context Awareness: Fully understands all context and responds accordingly
Create images: Start your message with the word image to create stunning AI images